The Changing Shape of Property Management
Two very interesting articles pertinent to the current climate that highlight the importance of technical help and advice that an organisation such as DCS can bring to a property management company. Deans Computer Services, as Capital Property Manager's parent company, don't just sell software but the technical services needed to keep all customer systems easily accessible away from the office environment.
Property Management in 2020: How to creatively use the chaos to come out ahead by Brittany Benz:
The property management industry has been rapidly disrupted in 2020 in a way no one could have anticipated. However, times of chaos and change tend to open the door for some of the greatest opportunities. We recently hosted a first-of-its-kind virtual event, where real estate leaders and influencers shared unique perspectives on what the future holds for the industry, and provided fresh insights on how to take control and creatively use the chaos to stay ahead of the competition. Here are a few of the learnings:
A Resilient Culture Can Carry Businesses Through Difficult Times by Senior Industry Principal Director of AppFolio, Stacy Holden:
Through uncertain times, the most stable organisations are those with a strong culture at their foundation. Building such a culture doesn't just happen by accident or through good fortune; it's an intentional act requiring thoughtful leadership, authenticity, and an ongoing commitment to a shared vision. Discover how you can build workplace loyalty, while orienting your teams towards growth.
Remember this – in the office wishing you can go and find some peace and quiet to get some work done – those were the good old days.  Things have changed since late February how we live, where we work how we teach, how we socialize.  Not much is the same as it was.
The degrees of this change vary based on where you are located but it's fair to say that everyone and every business has been impacted by Covid-19.  With that said, our industry reacted quickly.  A survey was conducted with property management companies at the end of march.  88% of those companies had already had a Covid-19 policy in place.  April and May changes were not slowing down. Most of us were working remotely and our tenants were working remotely as well.  We were adjusting to new regulations – ie eviction change, flexible payments with our tenants, etc.  Two common challenges was – Communication.  You can't over communicate with your teams.  Honesty transparency, integrity, concern with their wellbeing are all critical in a crisis.  The other was working efficiently – being able to operate fully mobile has been the key to their company's success in this time.
How to prepare for the longer-term impacts in the Covid-19 crisis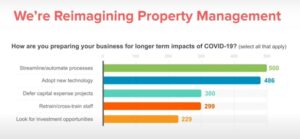 Not only were the top two answers technology driven but 3 out of 5 involved enabling the people of the organisation.  When you look at companies outside the property management industry such as Twitter, their CEO, Jack Dorsey is telling employees that they may be working from home forever and Google announced that their employees will be working from home until July 2021.  The relationships that employers have with their employees may be forever changed.  So, what are some of the lessons from previous times of crisis we can bring forward to today?
Times of resilience come in many different forms
Back in 2007 the country was experiencing major financial recession.  Mark Benioff (CEO of Salesforce) wrote a book about that experience.  He talked about innovation as the opportunity that times likes this bring.  Culture was a big part of his resilience formula.
As Marc Benioff said (Behind the Cloud 2009) The reason for culture isn't because it's a good thing to do, it's to survive during times like these and if you're in the process of building your culture, now is the time.
So, what is culture?
Each business has their own definition but the most successful cultures have purpose, are authentic and actionable.  These are the times that bring the best out of people.
Don't think about the uncertainty.  You HAVE certainty and that gives you the space to be creative and execute on a resilient culture that has purpose, authenticity and is actionable.  Pay attention to your teams and people. The majority of employees today value culture and that technology and automation need to be part of that culture.
Artificial Intelligence will continue to pave the way for the future
By Andrew Mutz, Chief Technology Officer of Real Estate at AppFolio explains what sort of impact we should expect AI to have on property management in the future.
"Artificial Intelligence will continue to pave the way for the future, from self-driving cars to Amazon's Alexa, AI technology is starting to have a big impact on the world.  However, AI's impact on the property management space is sometimes less clear.
As the property management industry continues to evolve and adapt, it's important to stay flexible and open to change.  By investing your company culture and the latest technology solutions, you cannot only overcome challenges, but reinvent your business and come out of this disruptive time stronger than ever".